Summary
Within the daily noise that is "news", there is often a small headline that should actually be boldfaced and printed in 40-font type, something reflecting a decade-long change.
The inclusion of Chinese A-shares in MSCI indices is such a change.
This article explains why this small bit of news is actually a sign of a gigantic, tectonic shift which will change the investment landscape in the next decade.
Introduction
Our news feeds are full of mostly irrelevant "noise" on a daily basis. Thousands of words are written about things that move the price of something up or down by 0.5% or 2% only to be reversed the next day by the next bit of noise. This is the "voting" process part of the famous Graham quote, "In the short run the market is a voting machine, in the long-run it is a weighing machine". Being aware of short-term price fluctuations can be important to short-term trading strategies, but what long-term investors look for are trends that affect the "weighting machine" part.
Often, the signs of such long-term trends are hidden in our daily newsfeeds and quite hard to detect. They are like a small tremor in the volcano in Hawaii that only a scientist who studies volcanoes and can look inside using sound waves can use to tell that massive eruptions are due in the next 6 months.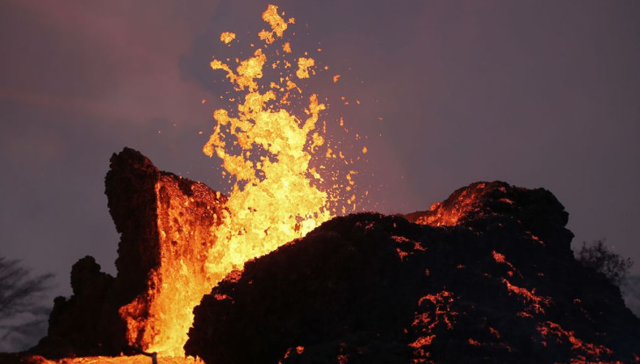 The inclusion of Chinese A-shares is such a sign, not only of the changing role of China in the world, but of a long-term trend that I describe as the end of dollar-hyperpowerism. This trend will completely change the way the world outside the US thinks of allocating its capital, in terms of currency exposure and country exposure. It will have implications on US investors that affect future interest rates, and through the mechanism of rates and spreads, returns on traditionally allocated portfolios (which are inherently backward-looking asset allocations) versus portfolios which take into account these tectonic shifts into their asset allocation models.
Some Background
To understand what the big deal is, first we need to understand two underlying pieces: what the global sources of savings are, and how they are managed professionally.
Figure 1: Savings & Investment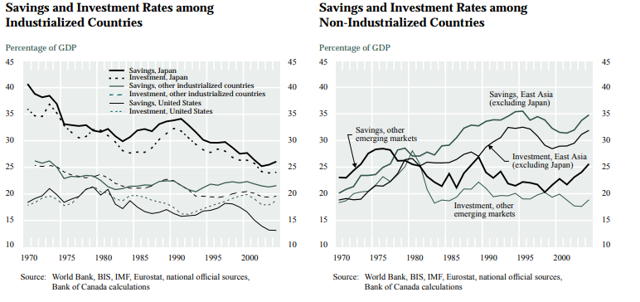 What we can see is that among industrialized countries, Japan had a huge savings rate and others had lower savings rates, but all of them have declined over the last 35 years. Japan had an excess of savings to investment while the US had an excess of investment to savings (and hence needed to import savings from Japan and others). Meanwhile, on the right side, the opposite trends can be seen. East Asia ex-Japan is both saving and investing more and more over time, but saving enough that it can invest domestically and still export some of its savings (for example to US government bonds).
An important part of overlaying the two graphs mentally is understanding the relative sizes of the two groups, and the fact that the second group shouldn't really be called the non-industrialized countries anymore (as it consists of some rapidly industrializing countries, some pretty much industrialized countries such as China and S. Korea, and still emerging markets like India and Thailand).
Figure 2: 2017 World GDP Shares by Region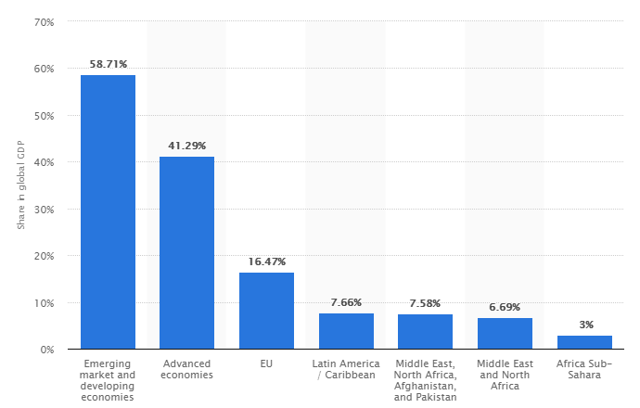 Source: statista
As Figure 2 shows, the graph on the right of Figure 1 ("industrializing") is actually almost 60% of the global story while the graph on the left ("industrialized") is about 40%. Subtracting Africa and Latin America from the biggest bar, we can deduce that Asia is already slightly larger than the US+EU. Given that Asia in general is growing over 5% while the EU+US is growing around 2%, this gap will only grow over the next decade.
Conclusion 1: World savings is already dominated by Asian capital flows and will only become more so over the next decade.
Next, we need to understand how savings is allocated by professional money managers. Money either goes into ETFs and index funds or is actively managed. Active managers are paid to manage money relative to a benchmark index and usually compensated based on their performance relative to an index. This gives enormous power to the creators of indices and their methodologies.
In Figure 3, we take a look at how the MSCI changes affect the weight of China in MSCI indices used for equities.
Figure 3: Weight of China in Equity Index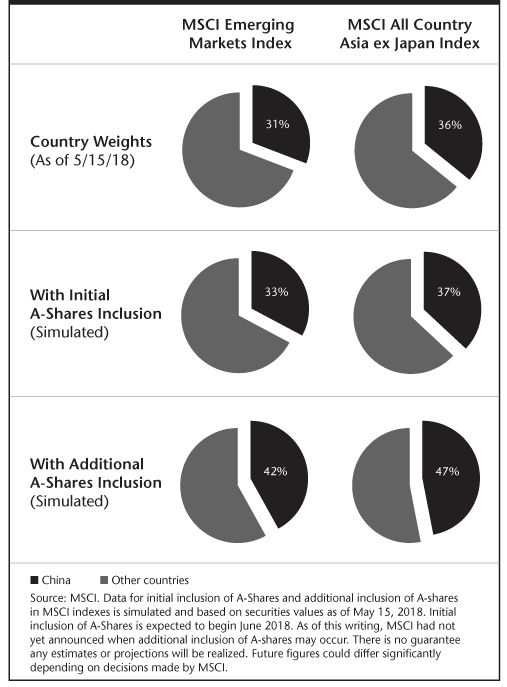 The initial A-share inclusion of 6/1/2018 is the first step in a planned multi-step process. The inclusion of the rest of the A-share market has not been announced but could occur as soon as 2019, but it is widely expected to occur by 2020.
The MSCI indices are used by money managers in the US, London, Frankfurt, Singapore and Hong Kong. Over time, not only will the weight of China within Asia go up, but as total investable market cap rises with GDP, so will the weight of Asia within global indices. In Figure 4, we take a look at the weights of the US and Japan in terms of market cap as well as GDP in world indices over time.
Figure 4: Weight of US vs. Japan over time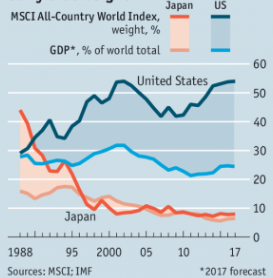 In 1988, Japan accounted for over 40% of global market cap in the MSCI world index with its GDP under 20%, while the US had about a 30% weight by both measures. Since then, Japan has shrunk to just under 10% by both metrics, while the US now has a huge gap between the two weights. The US accounts for just over 50% of weight when it comes to equity investment while its GDP is under 25%. This gap cannot continue to grow and is highly likely to revert much closer to a 1:1 ratio between market cap weight and GDP. Finally, we note that both the Japanese gap in 1988 and the US gap in 2000 coincided with what we have subsequently recognized to be massive equity bubbles; this is an indication that that current equity valuations in the US may be a significant portion of the gap.
However, one difference between Japan and the US is that the US has to date been the premier global reserve currency, with major international transactions conducted in US dollar and savings kept in US dollar. For example, the special drawing rights of the IMF has historically had the weights shown in Figure 5.
Figure 5: IMF Assigned Reserve Currency Weights 1981-2021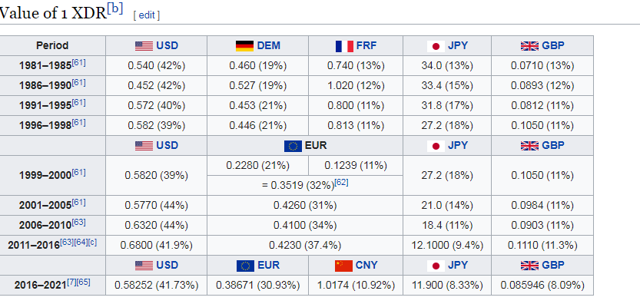 Source: wikipedia
The reduction in the weight of the yen and pound has come with the addition of the Chinese yuan. Similar moves include the addition of CNY to foreign central bank reserve accounts around the world and the acceptance by other Asian nations of CNY in payment for oil, natural gas or other purchases by Chinese entities instead of the US dollar as has traditionally been the case.
Investment Implications: Asset Allocation
In Figure 6, we compare an "growth" asset allocation that a US investor might use versus the investment allocation a Europe or Asia based investor might use.
Figure 6: Current Regional Allocations Based on Investor Domicile
Allocation To
Investor Domicile
US
EU
Asia
US
60%
30%
25%
EU
20%
50%
25%
Asia
20%
20%
50%
The source for the US based investor (which recommends 40% allocation to non-US) is Vanguard (for example here); this allocation is consistent with Fidelity's recommendations for aggressive long-term investors. Typically, EU and Asia-based investors have a lower home bias and these recommendations are consistent on what you might find on the non-US sites of money managers. Note that the EU-based investors have a slight bias to the US over Asia while Asian investors, who have the highest savings rates, are investing 50% within Asia.
Combining the trends from the background section with the above, we can make the following inferences:
GDP of "World ex-US/EU Zone" is already larger than US+EU.
Savings rates are significantly higher while Europe and Japan are fairly old and living off investments as a society (so we can expect low savings rates to persist).
The industrialization of Asia to European levels (and beyond – see my article on per capita GDP in South Korea exceeding Italy and Spain within 3 years here) requires huge amounts of investment and high levels of profit flows will occur to those supplying that investment capital.
Investors who think that a 10% allocation to "EM" as a class is appropriate are looking through a 1980s or 1990s lens, not a 2020 or 2025 lens.
The rise of Asia and Asian savings and trends in reserve currencies imply that the dollar will go from being the sole reserve currency to sharing that role much more evenly over time.
As the MSCI indices adjust and the weights of Asia within the world indices and of China within the Asia component grow, those who have shifted their asset allocations in advance are likely to see significant outperformance due to market multiple premia shifting. We expect this shift to occur from a deep discount to a generic "EM" class to a universe in which China and select Asian markets enjoy a developed world market multiple, other Asian markets sport multiples comparable to the EU and a few stragglers continue to have lower market P/E multiples. However, in a context where the EM component continues to grow much faster than the developed world, even "frontier Asia" is worth over-allocating to even if market multiples do not rise.
Figure 7: Forward Looking Allocation for US Investors
Recommended Allocations: 2025 US Investor
Growth
Aggressive
US
60%
45%
EU
10%
10%
Asia
20%
30%
Frontier
10%
15%
In Figure 7, we present our view of what forward-looking allocations for US-based investors should be based on whether they are "growth" investors with a 10-15 year horizon or aggressive growth investors with a 20+ year time horizon. This allocation takes into account the currently extremely high ratio of US market cap to its share of global GDP and profits highlighted in Figure 4 and the risks implied by this share that were addressed in a recent Economist article.
Disclosure: I/we have no positions in any stocks mentioned, and no plans to initiate any positions within the next 72 hours.
I wrote this article myself, and it expresses my own opinions. I am not receiving compensation for it (other than from Seeking Alpha). I have no business relationship with any company whose stock is mentioned in this article.